home > resources and links > programming > Cane Fu > Cane Fu lesson 2- site map
CANE FU FOR SENIORS: LESSON 2 (The Front Stance)
By: Debra Stewart MBA, MATLT, CDP, ACC/MC/E/AD/AC
Picture Yourself Stronger
The Front Stance is used in many martial arts schools and it is a wonderful first step for strengthening and improving the balance of self-defense students. This stance can be modified for various levels and it provides a more stable foundation for additional moves. It is important that the student warm-up first and stretch the entire body as they would for any physical activity. In the beginning, it is important to focus on balance and posture, but as the student progresses the moves become more aerobic and demanding. Cross-training is important for the student as it further strengths the body and it helps the student think of their self-defense or martial arts training as a form of athleticism.
Direction for the Front Stance:
Warm-up and stretch first
The front stance is a forward stance
The front leg is slightly bent
The rear leg is softly straightened
The legs are at least hip width distance apart.
Both feet are facing forward
Eyes forward during basics
The upper torso is kept in good posture with the back and neck aligned and the chin slightly tucked for better balance.
A precaution here is to advise the student not to lean forward during this stance.
In addition, because initially this stance is static it is important not to have the student hold this stance for too long to avoid other physical changes, which may bring discomfort.
Moving in and out of the posture at first is a good technique allowing for stretching and brief periods of disengagement to avoid over-stimulation.
Encourage hydration and rest breaks
Front Stance with Bob Dempsey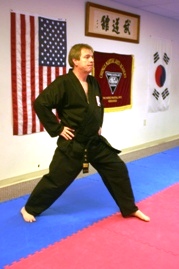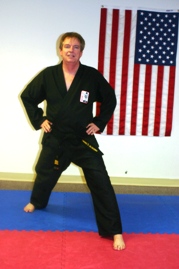 Modified Front Stance with Bob Dempsey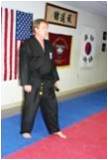 Depending on the student's physical and mental abilities, you may need to offer stand-by assist and recommend that the student does not practice alone. It is also important that the student has medical clearance for physical activity and that as a trusted instructor you constantly assess your student for the appropriateness of the moves in self-defense for that individual.
Debra Stewart, MBA, MATLT, CDP, ACC, MC. AD. AC.E, ACE PT, Master Instructor for Tae Kwon Do at Chung's Academy of Martial Arts. For more information about Cane Fu for Seniors, look for Debra's upcoming book, Self-defense for Seniors. Email Debra: pictureyourselfstronger@yahoo.com