home > resources and links > programming > therapeutic crafts > about Judith Zausner & Caring Crafts

ABOUT JUDITH ZAUSNER
By Judith Zausner
Caring Crafts Inc.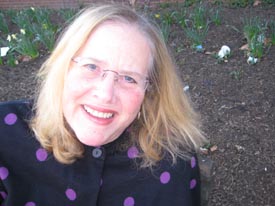 Judith is a consultant, designer and writer focused on empowering creativity and teaches craft classes for older adults. She is a recipient of a grant from The Society for the Arts for Health Care and her work has been profiled in print magazines and on websites. In addition her blog/column, Creativity Matters can be read on (http://agingandcreativity.blogspot.com), www.eldr.com, as well as the National Center for Creative Aging (http://creativityandaging.blogspot.com/). It is also featured in print in senior newspapers. In 2009, Seeking Solutions with Suzanne, a national Comcast television program, will air a segment of Judith demonstrating Caring Crafts and in 2010 she will be featured in Vickie Howell's book, Craft Corps to be published by Lark Books.
Originally from New York City, she is a graduate of Hunter College and studied Occupational Therapy in graduate school at the University of Pennsylvania. She lives in Philadelphia, Pennsylvania and is the mother of two grown children.
ABOUT CARING CRAFTS
Caring Crafts provides unique craft kits, tools and supplies to adults who may have fine motor skill problems and/or cognitive issues. The kits are simple to make, do not have tiny parts and there is no precision work involved. Tools and supplies are selected for versatility and ease of use. Since the final product is important, the finished project will be attractive and enjoyed personally or given as a gift. The goal is to empower creativity and self esteem which will improve well being.
All kits and other items can be purchased individually or in bulk for groups. Judith teaches successful craft workshops for seniors with a range of budget guidelines. In addition, she consults with organizations to train their activity personnel, evaluate inventory of supplies and tools, enhance their creative programs and develop fundraising initiatives to fit the needs of an organization and/or special event. Visit the website at www.caringcrafts.com.
CONTACT
If you have any questions or comments, please feel free to send Judith an email at judith@caringcrafts.com or call 1-888-246-1104.