A Whole New Look!
You may have noticed that things look different at www.recreativeresources.com. We got a whole new make-over! It was a much needed one with a new design and colors, as well as easier to navigate and let's just admit it, it's so much prettier. Take a peak and let me know what you think! Your feedback is important to me. In addition, for those interested in the spiritual side of things, the name changed from Crystal Connection to Spiritual ReSOULutions. It's still me, Kim Grandal of Re-Creative Resources Inc. I just wanted something more broad and spiritually-based. I'm just loving my new look. I hope you do too!

When you visit www.recreativeresources.com, you are brought to my landing page. Once on this page, you can choose if you would like to enter the recreation side or the spiritual side. See? It's super easy to navigate.

I also added new sections to the website with more material. Be sure to check out the resources section. You will be lost for hours exploring the wonderful resources! In addition, many people have been downloading the new free ebooks. Have you seen these? Go grab these here before you forget.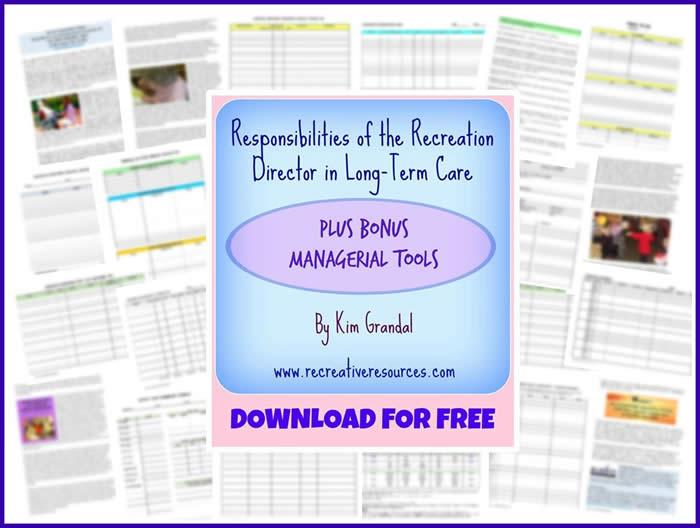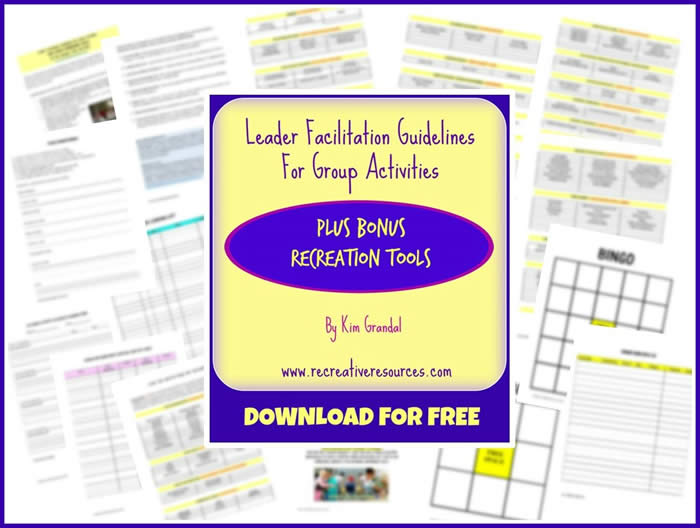 New Products
I hate to bore you with new product information but I am just so excited that I have to share! I have two new products that are selling like hotcakes and I haven't even announced these yet. They are flying off the hypothetical shelves! Check these out!
National Nursing Home Week - Randi Duretz, the Real Wonder Woman!

May was busy for Recreation and Activity Professionals all over the country. I know so many of you had wonderful events planned for the residents in honor of National Nursing Home Week. I'd like to shine the spot light on this awesome Recreation Director, Randi Duretz, from Philadelphia. She dressed up in various costumes at her facility, Luther Woods. Here she is dressed as Ms. Taco, Wonder Woman, and Darth Vader. Well, Randi, we think you are indeed Wonder Woman! These costumes are wonderful and fun. Thank you for all you do for the seniors! If anyone has pictures or stories they would like to share from Nursing Home Week, or any other events, please feel free to contact Kim. I think it is important to recognize ourselves, our hard work, creativity, dedication, and how fantastic we really are! Thanks for sharing these pictures with us Randi!

Patriotic Sensory Group- 4th of July is Upon Us

By Kimberly Grandal, CTRS, ACC/EDU
Recommended supplies, props and techniques for the following senses: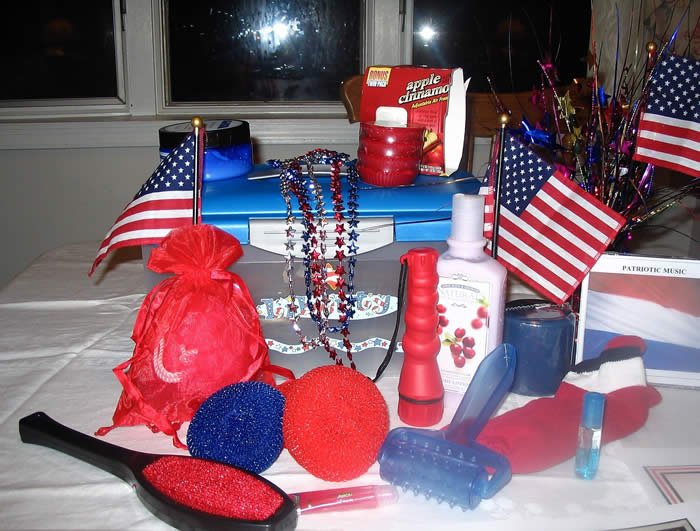 Olfactory (smell)
Encourage residents to smell and identify a variety of smells. Ask residents what the smell reminds them of. Recommended equipment: variety of scents such as scented candles and lotions, foods (fresh apples, berries), apple cinnamon, aroma fan/diffuser, cottonballs, swabs, etc. Precautions: Aromatherapy Oils are not to be used with residents with severe respiratory illness unless otherwise determined by physician; be aware of any allergies; do not apply Aromatherapy directly on skin; some aromatherapy oils have contraindications!
Kinesthetic (Movement)
Encourage physical movement through music, balloons, waving flags, patriotic pinwheels, etc. Provide passive range of motion or hand over hand guidance as needed. Recommended equipment: flags, balloons, batons, pom poms, ribbons, Precautions: Know resident's physical limitations; show caution with residents who have heart problems; observe any signs of residents becoming overly tired.
Tactile (Touch)
Have residents feel the objects and ask them to identify the object. Ask simple questions: "Does this feel soft to you". Identify hard/soft, rough/smooth, warm/cool, wet/dry, etc. Recommended equipment: variety of red, white and blue props and objects, lotions, massage roller, etc. Precautions: Use touch with discretion; be aware of allergies.
Visual (Sight)
Use clear, uncomplicated pictures with bright contrasting colors. Use real objects when possible, in conjunction with pictures. Use verbal cues such as: What color is this? "What does this color remind you of?" Recommended equipment: Variety of props, flashlight, red, white and blue lights, patriotic pictures (Uncle Sam, Statue of Liberty, Eagle, Apple Pie, and American Flag), patriotic videos, etc. Precautions: Do not shine lights in resident's eyes; monitor for over-stimulation when utilizing blinking lights or mirror ball (some research indicates it may cause dizziness or nausea, do not use with those who are epileptic).
Auditory (Sound)
Begin your group with stimulating rhythmic music and end the group with soothing, calming music. Recommended equipment: Patriotic Music, (America the Beautiful, God Bless America, You're a Grand Old Flag, Star Spangled Banner, etc.), CD/cassette player, musical instruments, bells, whistles, horns, Precautions: Monitor volume and limit distractions.
Gustatory (Taste)
Use a variety of foods that are in accordance with residents' diets, flavored swabs or flavored lip balms may be used for residents who are NPO. Use foods that have a distinct flavor: oranges, lemons, pudding, ice cream, mints, etc. Have residents identify sweet, sour, salty, warm cold, smooth, creamy, etc. Relate snack or food to past experience. Match tastes: have resident taste applesauce and match with a picture or point to a whole apple. Precautions: Be aware of food allergies or and observe dietary restrictions.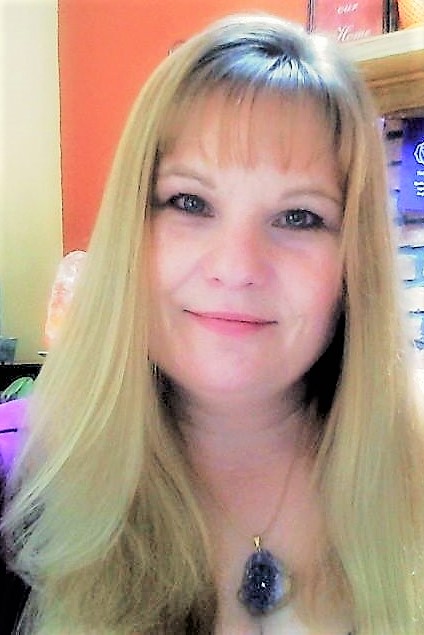 Thanks for taking the time to view this newsletter.
Don't forget to take care of YOU, because you are worth it my friend!

Many Blessings,

Kim Grandal ACC/EDU, ACM
www.recreativeresources.com
kimgrandal36@gmail.com
www.recreativeresources.com/Activity-Recreation-Professionals-HomePage.htm
www.facebook.com/ReCreativeResources
www.youtube.com/user/RecreativeResources