ABUNDANCE, PROSPERITY, MANIFESTATION and CRYSTALS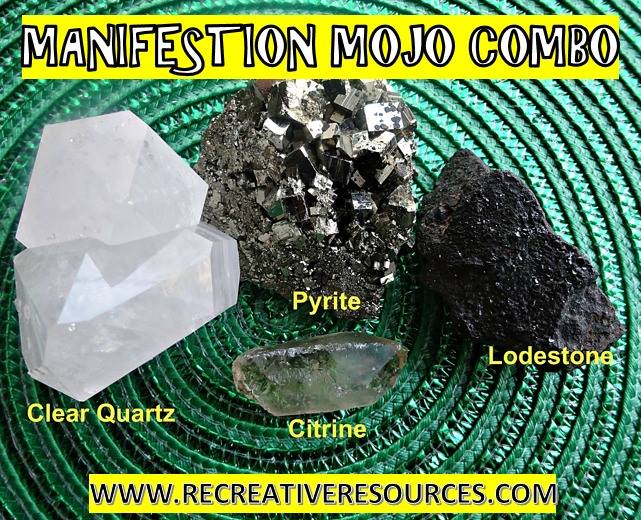 I am often asked, "What crystals are good for manifesting? For abundance and prosperity? For good luck? When we work with crystals, we are basically manifesting. The crystal energy enters into our own energy field and starts working its magic, so in a sense, ALL crystals are wonderful for manifestation! Remember the most important this is your personal intentions and the actions that you take to truly manifest your dreams. There are some, however, that I use as a general manifestation tool.
My favorite manifestation combination is:
Citrine (enhances our power center/solar plexus chakra, joy, vitality, abundance, manifestation).
Pyrite (enhances our power center/solar plexus chakra and grounds the energies).
Lodestone (grounds but also attracts energies because of itís magnetic properties).
Black Tourmaline is great too for it transmutes negative energies into positive.
Clear Quartz (amplifies energies, helps with clarity, and itís programmable).
You can program it for whatever purpose.
Customize your combination by adding crystals that are more specific to what you seek, such as:

Rose Quartz for love, forgiveness, and relationships
Green Aventurine for luck, growth and health
Moss Agate to sell a house
Fluorite to help you focus or study
Carnelian for taking action and energy

Jade, Ruby or Garnet for wealth and prosperity
Blue Lace Agate, Kyanite, etc. for a job interview
---
Crystals for Abundance, Prosperity, Manifestion, Good Fortune

---

Thoughts on Manifestation
Manifestation Stepping Stones
How to Use Crystals and Minerals to Manifest Your Dreams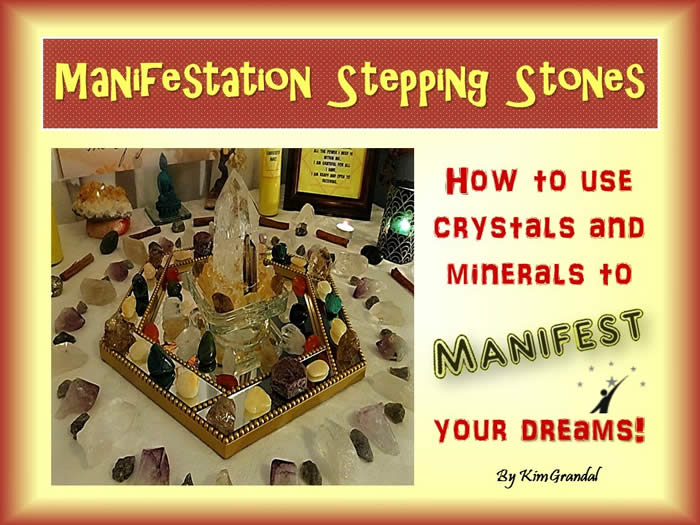 Manifestation Stepping Stones: How to Use Crystals and Minerals to Manifest Your Dreams, is an 80 page pdf ebook that includes many tips, tricks, ideas, methodologies and independant activities, designed to help you with your manifestation mojo. After your purchase, you will receive an email with a link to Dropbox or Google Drive. You will be able to download the eBook there. I also must mention that I manually send the email, so please give me 24-48 hours to get that to you. Grab your copy for only $11.11
---
Universal Abundance and Prosperity Crystal Grid

Clear Quartz, Citrine, Green Aventurine, Pyrite, Black Tourmaline

Abundance and Prosperity Power Pouch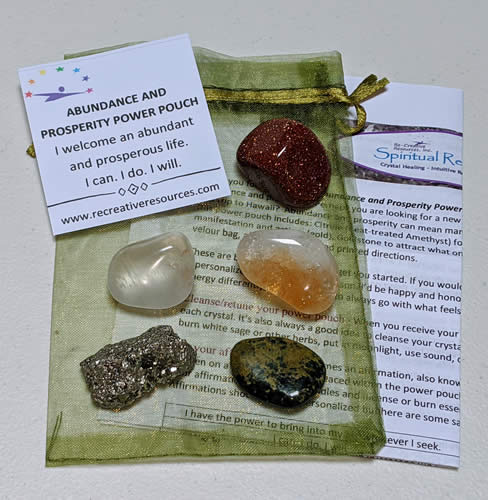 This power pouch is designed to help you manifest abundance or prosperity. Abundance and prosperity can mean many different things to people so what shall you manifest today? Includes one of each: Goldstone, Citrine (heated Amethyst), Nephrite Jade, Clear Quartz, Pyrite rough nugget,
organza bag, affirmation card, and printed directions.

---
Manifestation March Triple Decker Crystal Grid


This is a triple decker crystal grid has 3 parts. The top of the grid is the manifestation aspect, the middle is heart and love centered and the bottom is to ground the energies.
Watch the video for all juicy details!




---
---
Biz Crystal Grid

Clear Quartz, Citrine, Green Aventurine, Fluorite, Lemon Quartz, Rutilated Quartz

---

More Manifestation Crystal Grids


Citrine, Pyrite, Green Aventurine, Jade, Clear Quartz, Carnelian and Black Tourmaline
---
Sample Manifestation Crystal Body Layout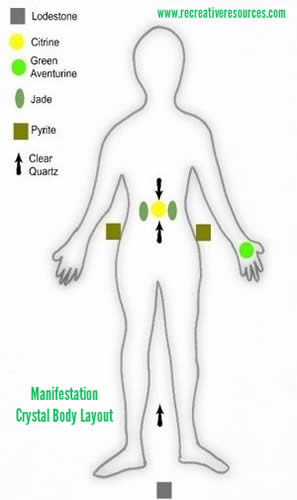 Crystals/Material Used
1 Citrine (I prefer natural but heat-treated works too), 2 Jade, 2 Pyrite, 1 Green Aventurine, 1 Lodestone, 3 small Clear Quartz points, yellow candle.
Procedure
Select a quiet area where you will be comfortably lying down. You may choose to light yellow candles, incense, play music, nature sounds, or any other methods that help you to relax. Place a few drops of Lemongrass essential oil into a carrier oil and gently anoint your Solar Plexus Chakra area. You may also diffuse the oil if you prefer. *Check with doctor and vet (if you have pets), before using an EO. *EO may stain clothing. Place the Lodestone a few inches below your feet at the Earth Star Chakra. Next place Quartz point near your shins, pointing up toward your body. Next place the Pyrite near the hips. Place the Citrine a few inches above your belly button, and the Jade on either side. You can also place 2 small Quartz points facing inward, toward the Solar Plexus Chakra. Hold the Green Aventurine in your left hand. Relax. Listen to your breathing, heartbeat, or music. Imagine a glowing ball of yellow swirling on your Solar Plexus. You may also imagine that your Solar Plexus Chakra is like the sun shining brightly. State your affirmations. Visualize what it is you wish to manifest. Use as many senses as possible to experience your manifestation. Lie in this position for about 20 minutes or for as long as you feel is comfortable for you. As with all meditations or wellness sessions, sit up slowly and stand only when ready. Give gratitude for what you have received and enjoy a nice glass of water.
Affirmations
I have the power to bring into my life whatever I seek.
I can create my life for I am a creator being.
I can. I do. I will.
Alternative crystals
Amber, Golden Topaz, Carnelian, Yellow Calcite, Peridot, Yellow Fluorite, Honey Calcite, Chrysoprase, Malachite, Carnelian, Emerald, Ruby, Garnet, Black Tourmaline, Copper

Alternative essential oils
Lemon, Patchouli, Bergamot, Citronella, Myrrh. Peppermint, Cinnamon Bark, Orange, Frankincense, Cypress, Spruce
---
Planting Seed Affirmations
Spring is a great time to plant seeds, right?
Why not plant physical AND metaphorical seeds at the same time? Grab a pot, soil, and seeds of your choice. As you place your physical seed in the soil, think or say out loud what it is you wish to manifest. You may plant as many as you like but as I always say, KISS (keep it spiritually simple). Water your seeds and be sure to visit often to check the status and repeat your affirmations. You may add crystals if you wish such as Clear Quartz, Moss or Tree Agate, Green Aventurine, Citrine, etc. Watch your seeds grows!
---