CRYSTALS FOR DECISION MAKING and FOCUS
Decision making can be quite challenging, especially with many choices and potential outcomes. Please know that crystals are simply tools, as are Oracle and Tarot cards, pendulums, and so on. I don't recommend you make decisions soley based on readings and spiritual tools. Keep in mind that it is important to weigh your pros and cons. I also like to take into consideration things like: my intuition, initial thoughts and feelings, how my decision would impact myself and others, etc. There are so many things that come into play when it comes to making decisions. Signs and synchronicities are also something to look out for. For information regarding this subject please visit my Synchroncities and Signs page. At the end of the day, only YOU know what is right for YOU. Staying focused can be equally challenging (Aquarian here!) and I feel these two subjects can be adressed in one post. Below are some of my favorite crystals for decision making and staying focused. Enjoy.
---
Fluorite for focus and grounding spiritual energies
Amethyst for the 3rd eye, vision, and intuition
Lepidolite for stress and anxiety
Apophyllite for the 3rd eye and crown chakras
Candle Quartz for ancient knowledge and wisdom
Skulls for ancient knowledge and wisdom
Iceland Spar for vision and clarity
Smokey Quartz for fear reduction
Citrine for manifestation and our power center
Pink Danburite, Pink Tourmaline in Quartz, or Pink Lemurians for a heart-mind connection
Labradorite for psychic abilities, repel negative energies, repair energy leaks, and strengthen empathic abilities
Meditation, scrying, pendulums, and oracle cards and also great tools to assist with decision making but as stated above, they are simply tools and should not be relied upon, especially for life changing decisions.
---
| | |
| --- | --- |
| Crystals for Decision Making | Crystals and Psychic Abilities |
| | |
| | |
---
Work It Power Pouch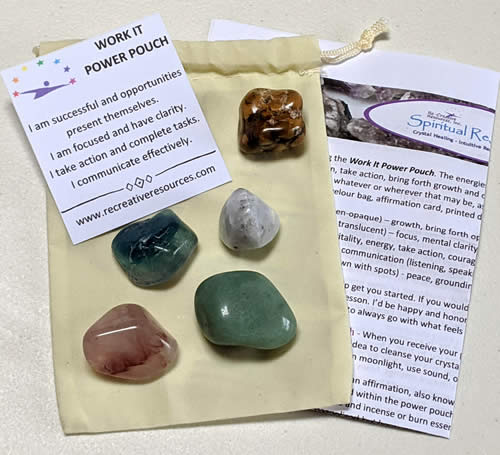 The energies of this power pouch are combined to help you stay focused, take action, enhance communication, bring forth growth and opportunities, and lessen stress. This pouch may be used at your work, school, whatever or wherever that may be, projects, charity work, committee work, etc. Includes one of each: Spotted Agate, Blue Calcite, Fluorite, Green Aventurine, Fire Quartz,organza bag, affirmation card, and printed directions.
Focus Crystal Grid and Student Tip

The crystal grid includes a Clear Quartz Channeler, rough and tumbled Fluorite, Clear Quartz points and Smokey Quartz. For students, place a small bag with Fluorite inside their binder.


Crystals for Focus


What it's Like to Live in the Now
---