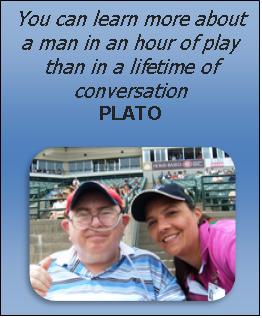 The philosophy of Re-Creative Resources, Inc. is that recreation and leisure are necessary components of life which are essential to the well being of all individuals, regardless of their physical, emotional, or mental condition.
With people living longer, it is increasingly important to provide opportunity for these individuals to continue to enrich their lives. Recreation programs in health-care facilities should be carefully designed to meet each individual's needs and interests. Individuals in health-care facilities should be offered opportunities to engage in social, cognitive, spiritual, physical, sensory stimulating, diversional, empowering, and creative-expressive activities, that have meaning and purpose.
The implementation of the 2006 revised CMS Guidance to Surveyors for Activities also emphasizes the need for person-appropriate activities. Long-term care facilities across the country are beginning to make these dramatic quality of life changes. Re-creative Resources, Inc. can help develop a program of activities and recreation that is therapeutic, educational, individualized, interdisciplinary, and fun for everyone.
DEFINITION OF THERAPEUTIC RECREATION
The National Therapeutic Recreation Society (NTRS) defines Therapeutic Recreation as:"Practiced in clinical, residential, and community settings, the profession of Therapeutic Recreation uses treatment, education, and recreation services to help people with illnesses, disabilities, and other conditions to develop and use their leisure in ways that enhance their health, independence, and well-being."
DEFINITION OF ACTIVITIES
The CMS Guidance to Surveyors defines activities as, "Any endeavor, other than routine ADLs, in which a resident participates that is intended to enhance her/his sense of well-being and to promote or enhance physical, cognitive, and emotional health. These include, but are not limited to, activities that promote self-esteem, pleasure, comfort, education, creativity, success, and independence. ADL-related activities, such as manicures/pedicures, hair styling, and makeovers, may be considered part of the activities program."
PURPOSE OF THERAPEUTIC RECREATION and ACTIVITIES

To offer activities that are meaningful to each resident.
To promote and enhance quality of life.
To enhance or maintain cognitive abilities.
To enhance or maintain physical abilities.
To promote emotional and psychosocial well-being.
To provide opportunity for socialization.
To offer opportunity for creative expression.
To offer opportunity for decision making, choice, and responsibility.
To offer opportunity for religious or spiritual expression.
To offer solace and relaxation.
To provide opportunity for fun, pleasure, and enjoyment.
To offer opportunity to share common interests, cultures, and experiences.
To promote independence and decreased learned helplessness.
To provide opportunity to learn new skills, adapt old skills, and enjoy new leisure experiences.
BENEFITS OF THERAPEUTIC ACTIVITIES AND RECREATION
Improved Cognitive Skills
Improved Physical Skills

Ability to follow simple directions

Improved communication

Improved interpersonal skills

Decision making opportunities

Improved attention span

Heightened sensory awareness

Heightened environmental awareness

Improved ability to make needs known

Improved memory skills

Improved self-expression

Improved fine/gross motor skills

Increased endurance

Increased mobility and range of motion

Improved hand/eye coordination

Improved ADL skills/body awareness

Increased strength and flexibility

Improved sleep patterns

Improved skin integrity

Improved appetite

Decreased incontinence

Decreased use of pain medications



Improved Emotional Well-Being

Decrease in Behavioral Problems

Increased socialization

Increased motivation

Opportunity for creative expression

Increased self-esteem

Increased confidence

Decreased depression

Decreased boredom

Utilization of stress management skills

Decreased Learned Helplessness

Wandering

Sundown Syndrome

Agitation

Anxiety

Repetitive motions

Yelling and screaming

Abusive behavior

Use of physical restraints

Use of chemical restraints
---

Additional Reading
What is Therapeutic Recreation?" article by Mandy Kuykendall, CTRS