DOCUMENTATION MATERIALS FOR RECREATION AND ACTIVITY PROFESSIONALS

Documentation isn't the most exciting aspect of working in the recreation profession but it is required and does help us in developing high quality programming. Re-Creative Resources Inc. has created tools and games to assist you with your recreation documentation needs. All materials are sent via e-mail for you to download and are
typically emailed within 24 hours or less but please allow up to 72 hours. Some emails get blocked.
If you do not get your order in three business days please contact Kim and leave your phone number. Please add

www.recreativeresources.com, kimgrandal36@gmail.com and kim@recreativeresources.com to your safe senders' list.
To pay by check or money order email Kim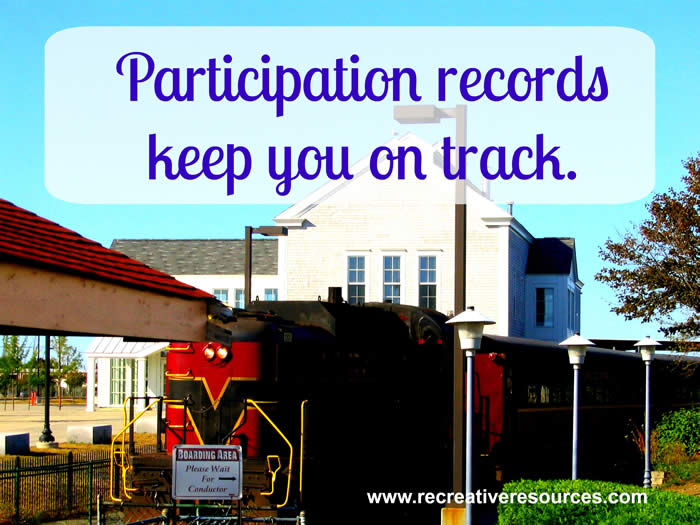 Tools to help you take the WRITE path!
***Documentation DELUXE Deal - $36***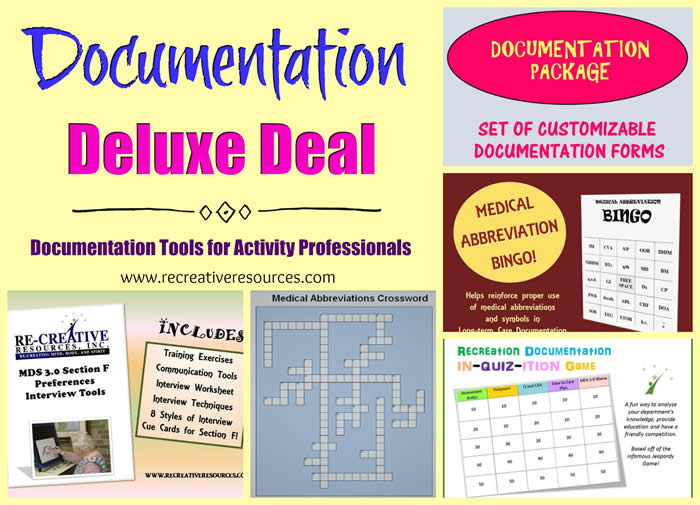 Purchase all FOUR documentation products that are listed on this page for a reduced rate of 35% off. You receive the Section F Interview Tools, The Recreation/Activity Documentation Forms Package, the Medical Abbreviation Bingo game and the Recreation Documentation InQuizition game. You also receive the bonus gift, Medical Abbreviation Crossword Puzzle! That's FIVE products in all. These are downloadable documents that are emailed to you. Please note that you can purchase each of these products individually OR buy all four at a huge discounted price. Scroll down to read about these wonderful documentation tools.
Section F Interview Tools $20
The tools in this manual will help the individual who is completing the Section F, Preferences for Customary Routine and Activities Interview by providing a variety of ways for Residents to answer the questions, a system to communicate the Resident Preferences to appropriate staff members and staff training exercises. This manual includes: 3 Training Exercises, IDT Communication Tools, Interview Worksheet, Interview Techniques and 8 Section F Cue Cards which include various styles (pictures, numbers, scales, graphs, words, etc.). Reproducible forms! Before you purchase, have you considered the deluxe deal?
Recreation and Activity Documentation Forms Package Deal $18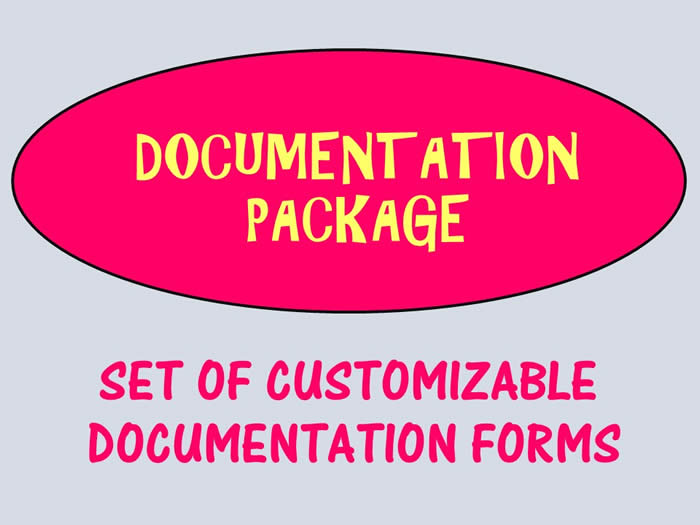 This Documentation Package includes:


Documentation Audit Form
This 2-page document is designed to guide you through a complete activity documention audit.

Activity/Recreation Assessment Form
This 2-page document is designed to assess residents' activity needs and interests.

Activity/Recreation Progress Note Form and Guidelines
2 page guidelines, and 1 page easy- to-use Progress Note.

Activity/Recreation Participation Form
2 page form to assist wih taking recreation attendance. Has codes.


Care Plan Communication for one to one activities
This one page checklist includes a variety of 1x1 interventions such as: music, exercise, reminiscence, validation, sensory, snacks, etc. with room for twenty residents.

Care Plan Communicationfor group activities
This one page checklist includes a variety of group programs such as Resident Council, music, parties/special events, exercise, horticulture, arts and crafts, etc. with room for 16 residents

One to One Log
Simple 2 page document to assist with monitoring an individual's one to one activities.

Recreation Therapy Treatment Log
This one-page form tracks the Recreational Therapy Services provided and includes: the purpose, the scope of service, treatment time, TR Services by category, and a space for weekly progress notes.

Sensory Response Record
This 2 page form helps you to track a resident's response to each sensory stimulation technique provided.
Medical Abbreviations Bingo $10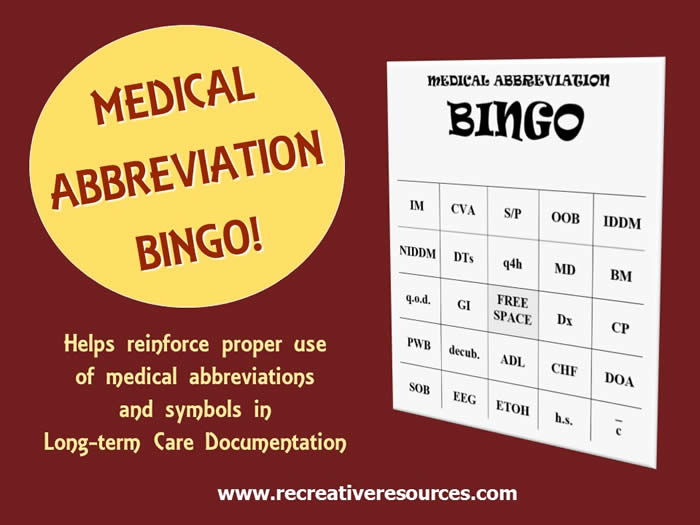 Make learning fun! Medical Abbreviations Bingo helps reinforce proper use of medical abbreviations and symbols in Long-term Care Documentation. You receive twenty 8 1/2 by 11 bingo cards and a list of the 75 abbreviations used in the game. Designed for Recreation/Activity Professionals. Place in sheet protectors or laminate for long-term use.


Recreation Documentation In-QUIZ-ition Game $7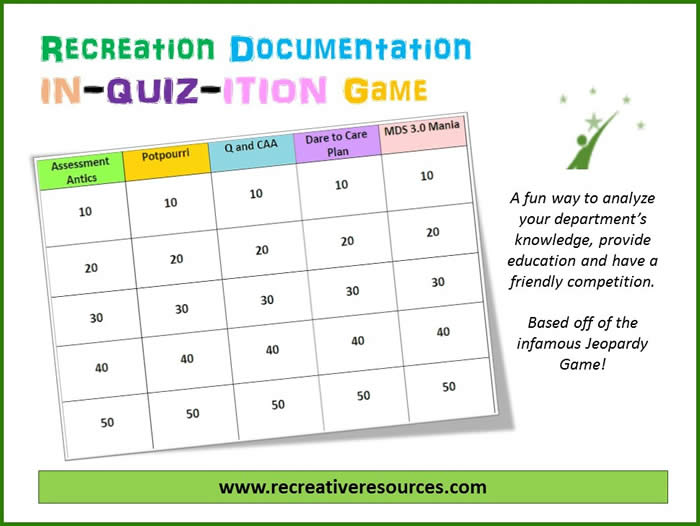 Based off of the infamous Jeopardy Game and updated to include the MDS 3.0, the Recreation Documentation IN-QUIZ-ITION Game was designed to educate Recreation and Activity Professionals about various components of documentation, primarily in the long-term care setting. This game is a great method of educating the staff as well as evaluating their knowledge. You receive two rounds of IN-QUIZ-ITION questions and answers. Simply print out the game board on 8 1/2 by 11 paper. You can either use as is or enlarge. Categories include: Assessment Antics, Q and CAA, Dare to Care Plan, MDS 3.0 Mania, and Potpourri. The game may be used as part of an in-service or for fun.