---
National Activity Professionals' Week
January 19-25th!
As you may know January 19-25th is National Activity Professionals' Week. Don't worry if you haven't planned anything yet. I have some goodies that will make celebrating this week, easy peasy. Please don't let the week go by un-noticed. This is a great time to strut your stuff. Do your thang. Float your boat. Shine your light. You know what I mean jelly bean?
Check out these goodies. They are sure to help you honor and promote this glorious profession! All you need is a computer, a printer, ink, and lots of paper.
NAPW Ideas, Resources, etc. Many are FREE!
Be sure to stop by the Re-Creative Resources Inc. NAPW page for a comprehensive list of ideas, resources, and products. I have many resources…most free so check it out!

https://www.recreativeresources.com/activity-professionals-week.htm
---
ACTIVITY PROFESSIONALS' WEEK eTOOL-KIT
(My most popular digital product!)

I have this fantastic product called the "Activity Professionals' Week Tool-Kit." It includes 25+ items such as activities, icebreakers, training materials, promotional materials and more, all specifically created for NAPW. Hundreds of professionals have downloaded this tool-kit and love it! Check out this wonderful display! Easy peasy to make! But the tool-kit comes with much more than that! Learn more about the Activity Professionals Week Tool Kit.
https://www.recreativeresources.com/activityprofessionalstoolkit.htm

Note: This is a downloadable product and is emailed to you.
Remember: If you are a current member of the Activity Resource Center, the NAPW tool-kit is already included so you do not need to purchase this. Just log into your account to download the tool-kit. Be sure to download the most current tool-kit for it's updated each year. Learn about the Activity Resource Center. https://www.recreativeresources.com/resourcecenter.htm
---
NEW YEAR'S RESOLUTIONS: SETTING GOALS YOU CAN ACHIEVE!
FREE DOWNLOAD
In this free reference guide, I share some goal setting tips and worksheets that will help guide you in writing more effective resolutions. This is a great activity for the residents as well as the caregiver, worker, activity professional, etc. Resolutions, also called affirmations can be stated at any time, not just during a New Year celebration.
So what are you waiting for? Grab this freebie at
https://www.recreativeresources.com/emaillist.htm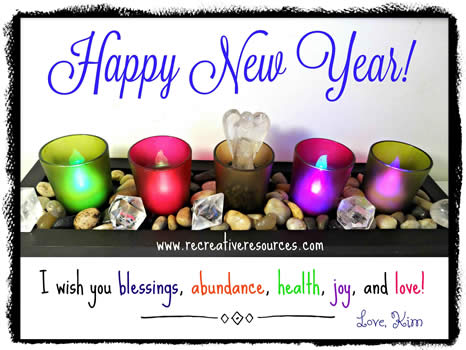 ---
Please note: If you do not wish to receive furthur emails from me, please be sure to unsubscribe using the link below this newsletter. No hard feelings over here.
---
Thank you for taking the time to view this newsletter. I honor and appreciate that your time and energy is important. Happy New Year and Happy National Activity Professionals' Week!


www.recreativeresources.com
kimgrandal36@gmail.com
Activity and Recreation Professionals Home Page
Free Resources
Facebook Recreation
Youtube Recreation
---