Spiritual Activities - Mini InService
By Kim Grandal, ACC/EDU, ACM


What is Spirituality?

Spirituality is different for everyone. Some call it a life source, the higher source, higher self, the light, energy, God, Allah, cosmic consciousness, etc. Heightened spirituality can offer connection and meaning to one's life. This connection, wholeness, or oneness can provide pleasure, joy, and solace as well as a sense of purpose and guidance. Spirituality is about who we are in relation to ourselves, others, and the universe.
Unlock Your Spirituality

One's spiritual journey is unique but here are a few ideas that may help to rediscover one's spiritual self.
Animals and nature such as pets, sensory gardens with bird feeders, aromatic plants and flowers, water fountains, walks in the park or on the beach, etc.
Aroma Therapy/Olfactory Stimulation such lavender, chamomile, incense, etc.

Astral Projection - a technique in which one consciously leaves their body.

Children: Young children especially, are more open spiritually than you may think. If you don't have young children around you, then try spending time at schools, day care centers, etc.

Community projects such as for Veterans, animal shelters, homeless shelters, etc.

Creative Activities such as painting, sculpting, gardening, poetry writing, song writing, storytelling, etc.

Crystals: crystals have been used for healing and spiritual purposes since ancient times. Re-Creative Resources Inc. has an online crystal store at http://www.recreativeresources.com/Spiritual-Center/crystal-store.htm

Deep Breathing is crucial to most relaxation techniques. When we relax, our breathing becomes deeper and slower and our heart rate decreases.

Dreams -Journaling: You'll find that writing down your dreams and keeping track of what is going on in your life, helps to understand what the dreams mean. We often have some vital spiritual meanings in our dreams.

Dreams - Lucid Dreaming: Lucid dreaming is when you become aware you are dreaming and you are able to control the dream.

Documentaries such as a documentary of someone who was a victim of the Holocaust. This helps us develop empathy.

Expressive arts such as drama, dance, and movement.

Guided Imagery to create a positive mental representation of things we know or can fantasize.
Inspirational stories, poems, proverbs, sayings, Chicken Soup for the Soul, etc. Check out our inspiration page.

Meditation – a technique that allows an individual to reach an altered state of awareness and focus.

Music and sounds such as relaxing music, inspirational music, nature sounds, playing an instrument, drumming circles, bell ringing, tuning forks, singing bowls, etc.

Mystical experiences such as paranormal experiences.

Metaphysics - A branch of philosophy focused on explaining the fundamental nature of being and the world.

Nature or spiritual videos and movies.

Personal growth opportunities such traveling, volunteering, voting, activism, etc.

Prayer - take time each day to express your gratitude and send blessings.

Quotes and memes.

Reiki - A form of energy healing.

Tai Chi – A Chinese martial art that is primarily practiced for its health benefits, including a means for dealing with tension and stress. Referred to as meditation in motion.

Walks outdoors, especially in nature. Get outside!

Yoga - A set of physical practices that include gentle stretches, breathing practices, and progressive deep relaxation.
Dog Days of Summer - Origin and Discussion
The phrase "Dog Days of Summer" refers to the Dog Star Sirius and it's position in the skies. Many ancient peoples referred to the Dog Days of Summer when Sirius seemed to rise before the sun, usually around the time of July when the days were very hot and muggy. Some believed this time would bring conflict or even destruction. In modern times, the Dog Days of Summer occurs 40 days beginning July 3 and ending August 11, and is said to signify the hottest days. Interestingly enough, this time frame coincides with the rising of Sirius. For fun, discuss the following summer-related phrases and quotes. What do these quotes mean?


It is a grave error to assume that ice cream consumption requires hot weather.
Anne Fadiman
In the depths of winter, I finally learned that within me there lay an invincible summer.
Albert Camus

Warm summer sun, shine kindly here.
Mark Twain
Summer is the annual permission slip to be lazy. To do nothing and have it count for something. To lie in the grass and count the stars. To sit on a branch and study the clouds.
Regina Brett
Shall I compare thee to a summer's day?
William Shakespeare
A life without love is like a year without summer.
Swedish Proverb

If you saw a heat wave, would you wave back?
Steven Wright
It's a sure sign of summer if the chair gets up when you do.
Walter Winchell

What good is the warmth of summer, without the cold of winter to give it sweetness.
John Steinbeck
My old grandmother always used to say, summer friends will melt away like summer snows, but winter friends are friends forever.
George R.R. Martin



Get BOTH digital products for $22
Regularly priced at $14 each
Offer ends August 11, 2018


| | |
| --- | --- |
| The S.P.I.R.I.T. e-Kit consists of a variety of activities and tools that are designed to enhance one's spiritual journey. These activities may be done in a group setting, 1 x 1, or independently. PDF documents sent via email in zipped folder. Also includes access to a meditation video. | This 60 minute introductory in-service is designed to assist the Recreation/Activity Director, or Staff Educator in providing an overview of Religion and Spirituality as utilized with older adults and elders. PDF document sent via email. Comes with handout, teacher's tools and forms. |




https://www.recreativeresources.com/Spiritual-Activities.htm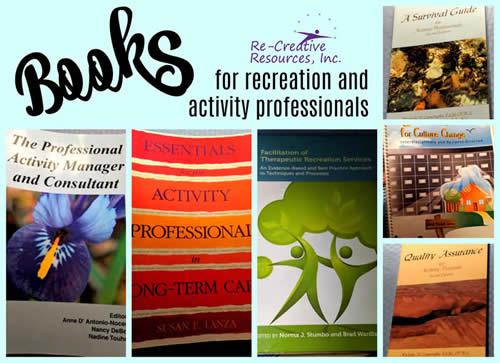 I have many recreation and activity books in my professional collection, so I decided to make some of them available for others to enjoy. Most of these books are older, slightly used (some are new), and may contain outdated material such as old regulations, terminology, etc.
With that being said, these materials are full of wonderful information, most of which is timeless. These are not ebooks. They will be shipped to you via snail mail. The shipping cost is included in the price, however, shipping is within the USA only. No returns.

Check out what's on the book shelf at
https://www.recreativeresources.com/books.htm

---
Thank you for taking the time to view this bewsletter. Happy Summer!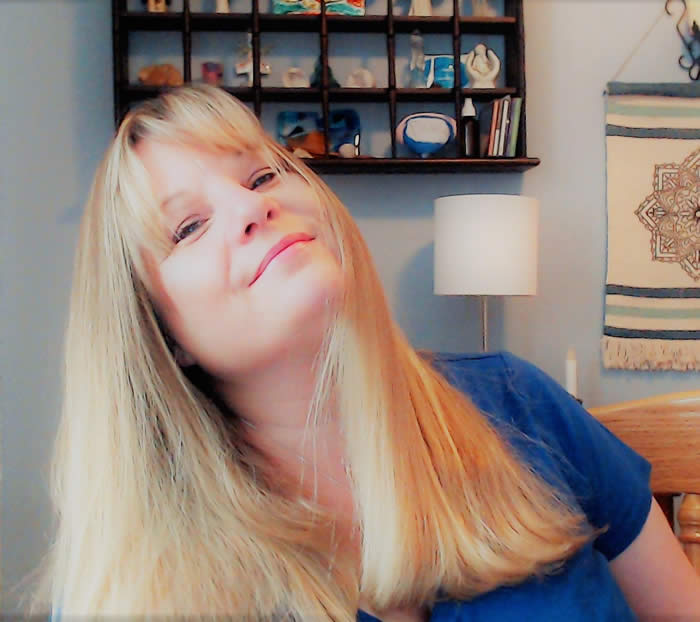 kimgrandal36@gmail.com
www.recreativeresources.com
Activity/Recreation Professionals Home Page
Free Resources
Facebook Recreation

Youtube Recreation
---