---


NATIONAL

ACTIVITY PROFESSIONALS' WEEK


January 24-30, 2021


As you know January 24-30th is National Activity Professionals' Week. Don't
worry if you haven't planned anything yet. I have some goodies that will make
celebrating this week, easy peasy. Please don't let the week go by un-noticed. You worked harder than ever last year! This is a great time to strut your stuff. Do your thang. Float your boat. Shine your light. You know what I mean jelly bean?
Check out these goodies. They are sure to help you honor and promote this
glorious profession! All you need is a computer, a printer, ink, and lots of paper.
NAPW Ideas, Resources, etc. Many are FREE!
Be sure to stop by the Re-Creative Resources Inc. NAPW page for a
comprehensive list of ideas, resources, and products. I have many resources,
most of which are free!

---
HANDS COVER SONG
DEDICATED TO ACTIVITY PROFESSIONALS

Here's a song I recorded years ago that I set to pictures of Activity Professionals. This is how I see our community of beautiful professionals. I've embedded the video here but if it doesn't show up in your email you can view this entire newsletter in your browser or
click here to view directy on Youtube
---
ACTIVITY PROFESSIONALS' WEEK eTOOL-KIT
(My most popular digital product!)
I have this fantastic product called the "Activity Professionals' Week Tool-Kit." It
includes 25+ items such as activities, icebreakers, training materials, promotional
materials and more, all specifically created for NAPW. Hundreds of professionals
have downloaded this tool-kit and love it! Check out this wonderful display! Easy
peasy to make! But the tool-kit comes with much more than that! Learn more
about the Activity Professionals Week Tool Kit.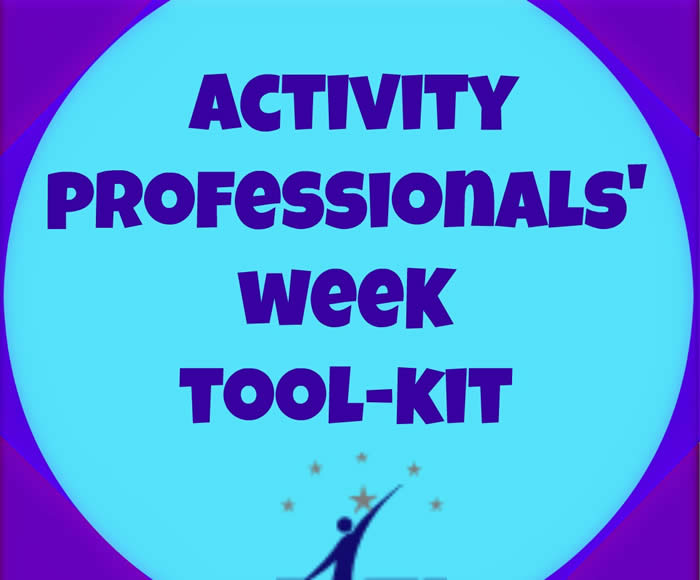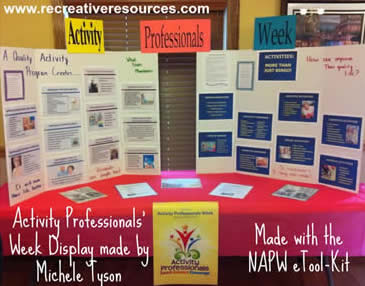 Note: This is a downloadable product and is emailed to you.
---
THIS MONTH'S NEWSLETTER IS SPONSORED
BY MELODY LANE DVDS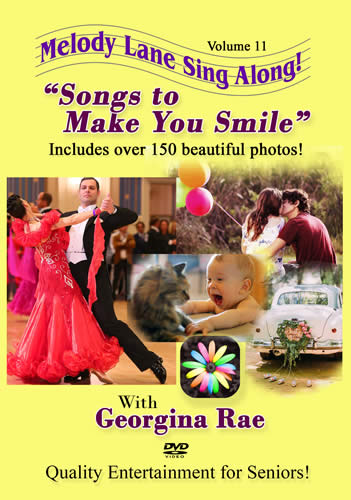 Melody Lane DVDs are the #1 selling sing along videos in Canada, the United States and Australia. In Canada they are endorsed by the Alzheimer Society and a popular resource in both Memory Care and Retirement Homes. There are twelve one-hour themed videos of age appropriate, well-loved songs performed in a key and a pace easy to follow. On-screen lyrics large print, illustrated Songbooks on CD Rom encourage participation. All 12 volumes now feature the "photo format' with over 150 engaging and memory stirring images. Order with no pre-payment. 100% Guarantee. Questions? Email us: melodylane@rogers.com.
Watch Videoclips and see Songlists on our Website at www.melodylane.ca.
---
Please note: If you do not wish to receive further emails from me, please be sure
to unsubscribe using the link below this newsletter. No hard feelings over here.

---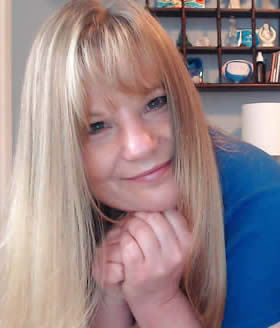 Thank you for taking the time to view this newsletter. I honor
and appreciate that your time and energy is important.
Happy National Activity Professionals' Week!


www.recreativeresources.com
kimgrandal36@gmail.com
Activity and Recreation Professionals Home Page
Free Resources
Facebook Recreation
Youtube Recreation