home > resources and links > programming site map
PROGRAMMING

Regulations or no regulations, Activity Directors, Activity Professionals and Recreation Therapists, have an innate desire to enrich the quality of life and functional ability for those they serve. Recreational activities have the natural ability to re-create the mind, body and spirit. The following pages are designed to help recreation professionals develop and facilitate therapeutic and fun programs for individuals with various needs, interests and abiiities.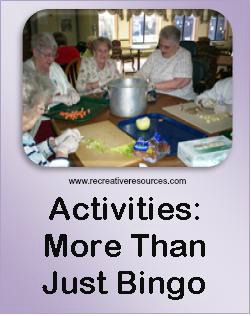 Activity Calendars

Adapting Activities and Adaptive Equipment

Aromatherapy

Art and Seniors

Cane Fu for Seniors

Community and Volunteers

Costumes and Creative Activities by Ginger Bonner

Crafts -Therapeutic Crafts

Death and Dying

Dementia and Alzheimer's Disease/Activities and Interventions

Environment - Therapeutic Environment

Exercise, Fitness/Wellness - Free Downloads

Flat Granny

Group Facilitation Tips

Horticultural Therapy

Massage and Elders

Men's Activities

Music and Entertainment

Recognition Weeks (Nursing Home Week, Activity Pro Week, Residents' Right Week, TR Month, Volunteer Week, etc.

Reminiscence Programs

Remotivation Therapy

Science for Seniors

Sensory Stimulation

Special Events and Themes

Spiritual Center (Crystal Connection)
Note: Join the Activity Resource Center for wonderful spiritual resources and activities

Technology and Activities

Writing - Therapeutic Writing


Additional Programming Links


For more programming resources, join the Activity Resource Center.